5D DIY Full Drill Diamond Painting Cup Cross Stitch Embroidery Mosaic Kit Home Decor
Features:
Spire design diamond shape, perfect size 2.8 mm;
26 section innovation launched, 360 degrees refraction diamond pure color;
High quality manufacturing process, without adding toner, reaching the export inspection standards;
Color fastness 8 grade, resistance to oxidation, radiation resistance, long time non fading;
Perfect to decorate your living room or bedroom to match different decoration style;
DIY painting, ingenuity, to do the painting with resin sequin, resin sequin unique luster is dazzling, shining in the light, is currently most popular DIY decorations;
Fortune and luck, diamond painting, embroidery home decoration, perfect decoration of your living room or bedroom to match different decorative styles.
Specifications:
Color: as shown
Material: canvas + resin diamond
Size: 30*30cm/11.81*11.81\'\'
Frame: no
Diamond type: round
Space: living room/bedroom/classroom/entrance
DIY Diamond painting production steps:
1. Open the box and check the diamond draw special tools
2. View the resin diamond color, arranged in order of coding
3. Uncover tape drawing above, you will see a lot of symbols corresponding to the color coding
4. According to the corresponding color coded clamp the corresponding the resin inlaid diamonds
5. Suggested that one type of the resin diamond one set completed faster
6. In order to create a perfect diamond painting, drawings put together in one place every row symbols do not have to stay stuck diamonds
7. To cut a good figure on the drawings hold sorted array mounted to the plane of the material above
8. Splices need flat against the neat, do not have cracks
9. After a good fight, the rest of the gap at the glue corresponding symbols of diamonds
10. To complete a good diamond drawing, put it in your selection of a suitable framework (this product does not provide a framework)
Notes:
This is DIY diamond painting, not finished, and you need to finish it yourself. All products are manual measurement, please allow 1-2cm deviation.
Because the light is different from the screen, the color of the item may be slightly different from the picture. Please understand.
Package Content:
1 x Diamond Cloth
1 set x Diamond Drawing Tool(Mud, Pen, Speed up plate, Magic cube diamond)
Standard shipping fee is £4.99(UK)
Shipment takes 7 to 20 business days(UK)
Shipping and Delivery time
At uk.diamondpaintinggifts.com, we care about the speed of delivery. We understand that the delivery of goods to your hand nimbly is important.
About Shipping
Receiving time = Processing time +Shipping time
Processing time: 1-2 business days.This typically takes 1 to 2 days; however, it may take longer time due to order surge.
Free Shipping:7-20 business days
NOTES:
1.Order Processing: The amount of time it takes for us to prepare your order for shipping. This typically takes 1 to 2 days; however, it may take longer time due to order surge.
2. Delivery time: The amount of time it takes to receive your order after your order has been shipped. Delivery times can vary depending on your location and shipping methods. Please check details below.
3. We offer free shipping world without checking number. Direct Line delivery and Express delivery if your order reach certain amount, check details below.
4. Direct Line delivery and Express delivery have specific tracking information and can be tracked through "My Order" section in your account or "Order Status" on the top of uk.diamondpaintinggifts.com website.
Track Your Order
It may take up to 5 business days after your order has shipped for your tracking information to become available online (it might take longer depending on how fast the postal services are processing shipments).
We accept the following payment method:
-PayPal
PayPal: the most convenient payment method in the world
We primarily uses PayPal to process secure payments. Through PayPal, we accept MasterCard, VISA, American Express, Discover, and bank transfer (debit card).You can connect your PayPal, credit card, debit card or bank account to PayPal for purchasing some of our products. After submitting an order, you will be redirected to PayPal to complete the transaction.
1.Log in to your PayPal account or use Credit Card Express;
2.Enter your card details and the order will be shipped to your PayPal address. Then click "Submit";
3.Your payment will be processed and an invoice will be sent to your e-mail address;
NOTE: Your order will be shipped to your PayPal address. Please ensure that it is correct and complete.
About Diamond Painting:

What is Diamond Painting?
Similar to both cross-stitch and paint-by-numbers, diamond painting is a new creative hobby that has taken the world by storm, especially fans of DIY crafts. Crafters all around the world have fallen in love with this activity because it is easy to learn and incredibly rewarding. Even novices and people who struggle with other crafts find diamond painting relaxing and enjoyable. Mastering the basics is a breeze, and people of all ages and skill levels can create breathtaking artworks.

What's Included in a Diamond Painting Kit?
Our Diamond Painting kits include a canvas and a set of painting tools (Pen, Tray, Wax , Rhinestones)【Without Frame】

How do I get started?
Really, any of our diamond painting kits are a great way to get started, because they come with everything you need!
What we recommend to start with is a smaller sized diamond painting, so you can make sure it's something you enjoy and that you don't bite off more than you can chew. Some diamond paintings take weeks!

How to Use Discount Code?
The discount can be applied on the payment page. Just copy and paste your code and select "Apply" to redeem.
What is the best size for diamond painting?
There are different sizes of diamond painting Kits. The bigger the size of a canvas, the better the effect you will get at the end. Smaller canvas can give a "Lego brick" effect, while bigger canvas give a more realistic piece of art.
Note:The size indicated in our title are canvas dimensions and not picture size.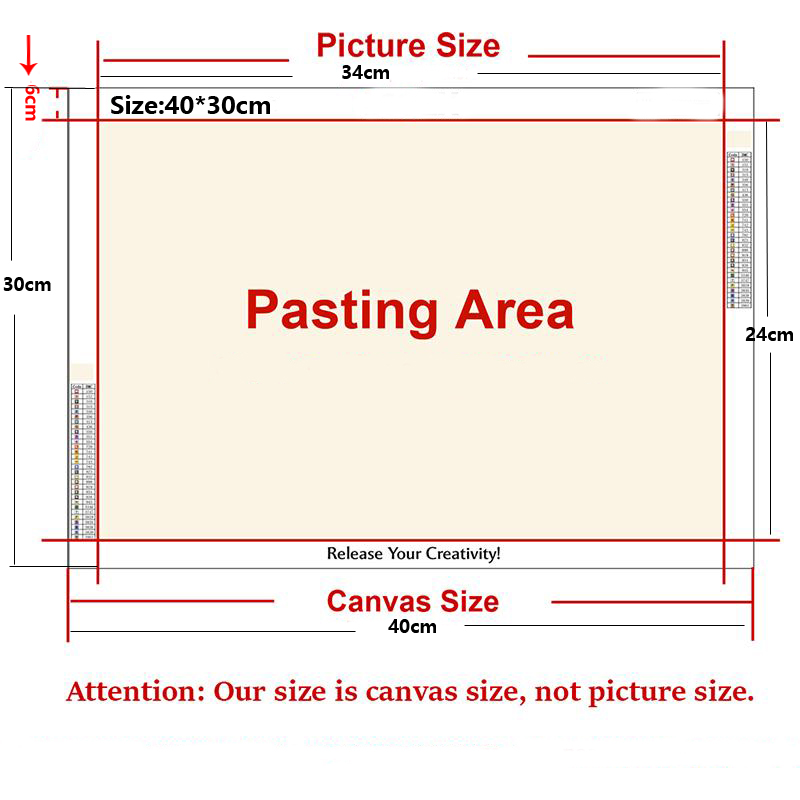 About Delivery:
How much will delivery cost?(To UK)

Delivery fees costs vary based on the delivery window.
For Standard Shipping(7-25 days), Order Value below £50, shipping fee is £4.99;Order Value over £50, free shipping.
IMPORTANT:Shipping fee is calculated at the discounted price

For Fast Shipping (7-10days),Shipping fee on all orders is £46.99.(If you choose Fast Shipping, in order to deliver faster, please leave a message to note "Fast Shipping")

How can I qualify for free delivery?

Free delivery on purchases over £50 (after discount)*

How do I place a Standard Delivery order?

To place a standard shipping order, simply add the product to your cart, select your shipping address and fill in the information. Follow the checkout process to complete your order.

How do I place a Fast Delivery order?

To place a Fast Shipping order, simply add the product to your cart, select your shipping address and fill in the information. Follow the checkout process to complete your order.(in order to deliver faster, please leave a message to note "Fast Shipping")